Support NWS
The New World Symphony Fund for New Ventures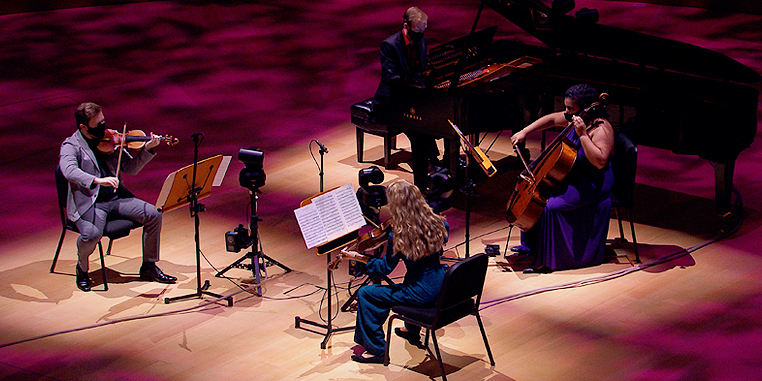 The purpose of the Fund for New Ventures is to provide artistic risk capital to fund innovative new programs, projects, productions, and experiments at their earliest stage of development. The funded ventures will further the mission of the New World Symphony for the benefit of its Fellows and audiences, as well as the larger field of classical music and music education.
Long-time supporters of New World Symphony, Robert and Diane Moss, established the Fund in 2018 with a generous gift from their donor-advised fund at The Miami Foundation, the Helena Rubinstein Philanthropic Fund.
"The idea of developing such a fund came to us when I thought about the freedom and flexibility that could be afforded to NWS via a dedicated resource for seed funding," says Mr. Moss. "We have the best facilities, technical support, and one of the world's most creative minds in the art form. Just imagine what more will be possible with a growing pool of artistic risk capital."
NWS Co-Founder and Artistic Director Laureate Michael Tilson Thomas says, "I often dream of projects that fit our mission but require risk. At the New World Symphony, agility has high value. The Robert and Diane Moss Fund for New Ventures will allow us to pursue strong ideas quickly and efficiently. This is a significant breakthrough in the process of bringing our ideas from concept to reality."
To further this rare, dedicated source of artistic risk capital, your gifts to the Fund for New Ventures will allow NWS to:
Take quicker action on bringing exciting new ideas to the test and execution phase

Present projects that have the potential for lasting value, financial or otherwise (educational, pedagogical)

Elevate new ideas or extend successful experiments (projects must be realistic and achievable and therefore will not receive more than 3 years of support from the Fund)
Examples of funded projects to date: 
• Selected BLUE Projects (Build, Learn, Understand, Experiment)
*Under Gift Options, please specify "This gift is being made for NWS Fund for New Ventures".
Fund for New Ventures Donors*:
$1,000,000
Helena Rubinstein Philanthropic Fund at The Miami Foundation, Diane and Robert Moss
$150,000
Cassie Arison and Niv Alexander
$125,000
Kleh Family Foundation, Mr. and Mrs. Bill Kleh
$75,000
Karen Bechtel and William Osborne
$50,000
Bruce and Martha Clinton, The Clinton Family Fund
Michael Tilson Thomas and Joshua Robison
$5000
Mr. and Mrs. Jeffrey Akin
The Kieser Family
Fanfare
Ms. Sherry Klapper
Eric Lemon
Llelanie Orcutt
*as of December 5, 2022