VIA Summer Music Academy

Join New World Symphony Fellows and alumni for VIA, a virtual summer music academy that's completely free! Standing for Virtual Inclusion Artists, VIA seeks to engage musicians from communities underrepresented in classical music through individual lessons and group classes. The week-long sessions are tailored to string, woodwind and brass instrumentalists (grades 7-12) and taught by NWS Fellows, alumni and guest speakers.
VIA's curriculum is tailored for each student through one-on-one discussions about goals and aspirations with VIA's Teaching Artists. Participants will also enjoy classes designed for developing the whole musician, including how to find the right college, how to prepare for college, a glimpse of student life and how to find financial support.
VIA offers the option of two week-long sessions for a limited number of participants. Auditors of group workshop sessions are welcome. Deadline to apply is June 3, 2020. Applicants will be notified no later than June 5, 2020 of their admission results.
VIA is generously supported by Dorothy Terrell as part of a gift to create the New World Symphony College Track Mentorship Program.
SESSIONS
Session 1: June 20-25, 2020
Session 2: June 27-July 2, 2020
Participants may join only one of the two sessions and must have access to internet and web camera. All VIA sessions will take place on Zoom.
CURRICULUM
Curriculum:
Goal-focused mentoring sessions, instrument lessons, and creative masterclass settings with Teaching Artists from the New World Symphony
Group classes ranging from Performance Anxiety and Optimal Performance Training, to Body Mapping and Stage Presence taught by Guest Artists
Virtual ensemble recording, led by our Teaching Artists
Example Day: (all times Eastern Daylight Time)
All days begin at 11:00 AM EDT and end at 4:00 PM EDT with lunch at 1:00 PM EDT
11:00 AM – Warm Up Session with Teaching Artist
12:00 PM – Body Mapping Session with Guest Artist
1:00 PM – Partnered Lunch Activity with Students
2:00 PM – College Pathways Discussion with Guest Artist
3:00 PM – Sectional Masterclass with Teaching Artist
ELIGIBILITY AND REQUIREMENTS
Eligibility:
Students Grades 9-12 (as of May 2020)
*(Outstanding applicants from grades 7-8 will also be considered)
Audition Video Requirements:
See your individual instrument applications for more specific information on video requirements.
Technology Requirements:
VIA Summer Music Academy will be held entirely online. An internet connection and device with a microphone and camera is required to participate in this year's activities. If you do not have access to necessary technology equipment, please describe in your application what you may need to make it possible to participate in this program. The VIA Academy will do as much as possible to assist students in overcoming technological barriers.
The group classes will be held on Zoom. There is no cost to initially download this program, and all costs associated with premium accounts will be covered by VIA. Download link for Zoom: Click here
GUEST SPEAKERS
Noa Kageyama: Optimal Performance Training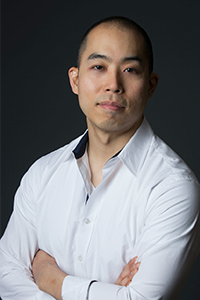 Elite athletes have known for decades that physical preparation alone is not enough to perform optimally under pressure. After all, why is it that we can nail even the most difficult passages in the practice room, but fall apart when we're in front of other people? And why does this happen in some performances, but not others?
Performing doesn't have be such a random or nerve-wracking experience. And increasingly, musicians too are engaging in more mental skills training - ways of practicing and preparing which can lead to more consistent, inspired, and engaged performances.
In this session, we'll explore the two causes of "choking" under pressure, and two ways to prevent this from happening.
Michael Linville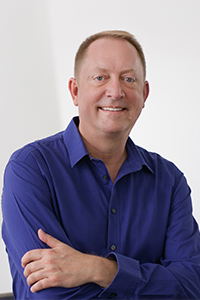 Michael Linville enjoys a varied career as pianist, percussionist, harpist, conductor, educator and arranger. The Dean of Chamber Music and Fellow Development at the New World Symphony, Mr. Linville programs and coaches much of its extensive non-orchestral performance activities. Additionally, he is the conductor and coordinator of the New World Percussion Consort and acts as curator of MUSAIC, the New World Symphony's website of educational videos featuring outstanding artists and educators in classical music.
Mr. Linville first came to the New World Symphony in 1993 as its Piano Fellow. In 1997 he was invited to join the Symphony's administrative staff and has served in several capacities, including Director of Admissions and Dean of Musicians. As a performer, Mr. Linville has appeared with NWS, the symphonies of San Francisco and Honolulu, the Florida Orchestra and the former Florida Philharmonic. Since 1993 he has been a member of the Breckenridge Music Festival in Colorado, performing concerts as pianist, percussionist and conductor during the summer season and in chamber music and educational projects during the winter. In 2016 he was named an Artistic Partner of the Festival, co-curating its chamber music series with violinist Kate Hatmaker.
Nicole Newman: Yoga for the Arts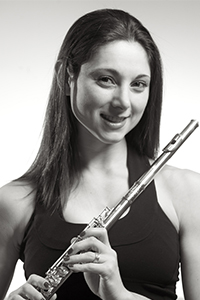 Toning the Vagus Nerve Through Yoga-Based Practice: The Vagus nerve serves as an information superhighway connecting the brain to numerous organs throughout the body, including the larynx, lungs, heart, and organs of the digestive tract.
Individuals with low vagal tone are typically more sensitive to stress, experience difficulty transitioning out of the body's stress response, have poor or impaired digestion, and difficulty focusing. Low vagal tone is also associated with a host of other physical and psychological health issues, including chronic inflammation, depression, anxiety, migraines, cardiovascular conditions, and chronic fatigue syndrome.
The good news is that vagal tone can be improved through simple yoga-based practices, including yoga postures, breath work, meditation, and vocalization techniques.
In this workshop we will focus on improving vagal tone, which will better equip you to handle internal and external stressors, soothe the nervous system, and support the immune system.
About Nicole: Nicole Newman is a conservatory-trained classical flutist and curriculum developer, who earned a B.A. in Psychology from NYU, a M.A. in Education from Queens College through the NYC Teaching Fellows Program, and a M.A. in Educational Leadership from the University of Northern Colorado. Nicole has written curriculum for the NYC Department of Education, health and wellness curriculum for the Sonima Foundation, and currently develops educational materials for the Colorado Symphony.
Nicole is a Yoga Alliance Certified Yoga Educator, who continues to pursue her study of anatomy to refine her understanding of the human body's structure and how it relates to movement and breath. She has completed three Manhattan-based physical therapy internships at Hospital for Special Surgery's Spine Therapy Center, Langone NYU, and the Vestibular Balance Rehabilitation Center at Mount Sinai's New York Eye and Ear Infirmary.
As the Founder of Yoga for the Arts, Nicole designs health and wellness programs for professional and aspiring professional musicians internationally, including musicians from the New World Symphony, New York Philharmonic, the Metropolitan Opera, Juilliard, New York University, Carnegie Hall's National Youth Symphony, New York Youth Symphony, and the Norrköping Symphony Orchestra in Sweden.
Nicole is most passionate about finding creative ways to bring music and health and wellness education to all students.
Angelica Hairston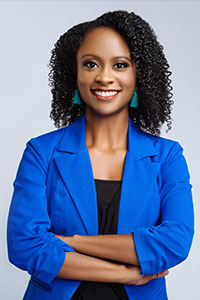 Harpist Angelica Hairston is known for her fiery performances and passion for social change. Throughout her career, she has made it a priority to create social impact through the power of the arts. In 2016, she founded the organization Challenge the Stats, a concert series dedicated to empowering high-caliber artists of color, and sparking dialogue about diversity, inclusion, and equity, both on and off the concert stage.
In addition to her work with CTS, Angelica currently serves as the Artistic Director of the Urban Youth Harp Ensemble where she provides free harp instruction to over 90 students at Drew Charter School in Atlanta, GA. She was recently celebrated as one of the youngest recipients of the 2019 Governor's Awards for the Arts & Humanities, an award recognizing individuals who have made significant contributions to the state of Georgia's civic and cultural vitality through excellence and service.
Angelica is a current member of the Sphinx Organization's SphinxLEAD cohort and serves as a consultant for the Education and Equity divisions of NPR's From the Top and Boston University Tanglewood Institute. She was a keynote speaker at the 2018 Woodruff Arts Center Educator Conference, was a member of the 2017 cohort of the League of American Orchestras' Essentials of Orchestra Management, and a panelist for the 2017 SphinxConnect. Angelica holds a Master of Music Industry Leadership from Northeastern University as a 2015 MLK Fellow and a Bachelor of Music from The Glenn Gould School of The Royal Conservatory of Music in Toronto, Canada.
Alex Gonzalez – Violin
Described as a "true virtuoso" by the Viborg Folkeblad and praised for his "agile, incisive" playing by the South Florida Classical Review, violinist Alex Gonzalez has performed across the United States and abroad as a chamber musician, recitalist, and ensemble leader.
A dedicated chamber musician, Alex was a recipient of the John Celentano Award for Excellence in Chamber Music upon graduation from Eastman School of Music. He has performed at venues including Carnegie Hall, Queen Elizabeth Hall, the Kirsten Kjær Museum, and Oxford University. He has also performed for broadcast on BBC Radio 3, Colorado Public Radio, and the Sky Arts Television Network.
As an ensemble player, Alex has performed with the Saint Paul Chamber Orchestra, The Knights, the Minnesota Orchestra, the Cabrillo Festival Orchestra, and as guest concertmaster of the London based Chineke! Orchestra. He has toured nationally as a member of the Sphinx Virtuosi, performing at venues including the Isabella Stewart Gardner Museum and the Library of Congress, and frequently serving as a principal player. Alex regularly served as concertmaster of the New World Symphony, where he was a violin fellow for three seasons, and served as Interim Principal Second Violin of the Louisville orchestra during the 2020 season.
Alex has been invited to numerous music festivals including the Krzyzowa Chamber Music Festival, Thy Chamber Music Festival, Pacific Music Festival, the Britten-Pears Young Artist Program, and the Aspen Music Festival and School as a two time fellowship recipient. He has served as faculty for Carnegie Hall's National Youth Orchestra (NYO2) Program, the Flatirons Chamber Music Festival Young Artist Program, and the Iberacademy in Medellín, Colombia.
Alex completed studies at the Eastman School of Music, Rice University, and Carnegie Mellon University. His principle teachers include Shakeh Ghoukasian, Oleh Krysa, Paul Kantor, and Cyrus Forough. Chamber music studies were completed under Carol Rodland, Mimi Hwang, Norman Fischer, James Dunham, and the Ying Quartet. Alex plays on a violin made in 2017 by Mario Miralles.
Rebekah Heller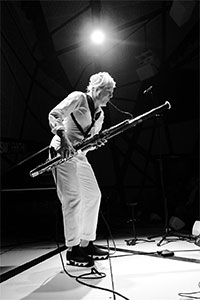 Photo by Michael Yu
Praised for her "flair" and "deftly illuminated" performances by The New York Times, bassoonist Rebekah Heller is a uniquely dynamic soloist and collaborative artist. Called "an impressive solo bassoonist" by The New Yorker, she is fiercely committed to expanding the modern repertoire for the bassoon. Her debut solo album of world premiere recordings (featuring five new pieces written with and for her), 100 names, was called "pensive and potent" by The New York Times and her second album, METAFAGOTE has received wide acclaim.
Last fall saw Heller's debut as a soloist with the New York Philharmonic, playing the music of longtime collaborator Ashley Fure. She has also been a soloist with the Seattle Symphony, the Nagoya Philharmonic, and the New World Symphony.
As Co-Artistic Director of the acclaimed International Contemporary Ensemble, Rebekah is committed to fostering conversations around new ways music can be experienced and shared. She has been a featured panelist at the New York Philharmonic's "Insights at the Atrium," the New York Public Library for the Performing Arts, Miller Theater and the Abrons Arts Center. She has given masterclasses and talks in conservatories worldwide and is on the faculty of the Mannes School of Music in The New School's College of Performing Arts.

Rebekah lives in Manhattan.
More info at rebekahheller.com