Events & Tickets
Sensory-Friendly Environments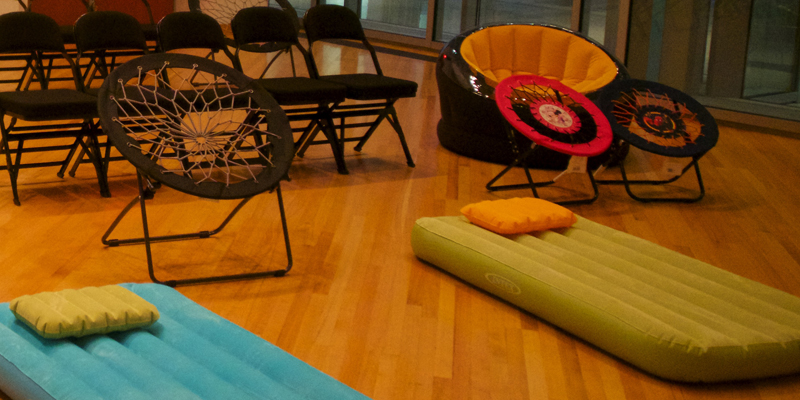 The New World Symphony believes music is a powerful, joyful part of life. Join us and experience music in a welcoming, safe and comfortable Sensory-Friendly Environment designed to include the entire family.
This Sensory-Friendly Environment is for audience members with Sensory Processing Disorders (SPD) and Autism Spectrum Disorders (ASD). 
Special accommodations will be provided, including:
Access to a streaming live feed of a concert performed by the New World Symphony, in a designated Sensory-Friendly Environment located inside the New World Center
Reduced volume levels and noise-redacting headphones
Modifications to lighting
Comfortable seating (bungee chairs and inflatable chairs and beds)
Coloring and drawing station
A "quiet room" for any child or adult seeking a break from the stimulation of the live performance
Guests are welcome to bring items (blankets, pillows, etc.) to make their visit more comfortable. Doors open 30 minutes before the start of the concert. 
Entry is free with your ticket to see a New World Center performance. Children must be accompanied by an adult at all times. RSVPs to sensory.friendly@nws.edu are encouraged but not required.  
A Sensory-Friendly Environment will be available at the following 2023-24 performances: 
Season Opener: Denève conducts Debussy and Britten on Saturday, September 16, 2023 
Denève: Prokofiev's Romeo + Juliet on Sunday, October 15, 2023 
Concert for Kids: Tricks and Treats on Sunday, October 29, 2023 
Mahler 6 on Sunday, November 15, 2023 
Sounds of the Season on Saturday, December 16, 2023 
Denève and Isabel Leonard on Sunday, January 21, 2024
Concerts for Kids: I Dream a World on Sunday, February 2, 2024 
The Soundworld of Mary Lou Williams on Sunday, February 25, 2024 
MTT and Emanuel Ax on Sunday, March 10, 2024 
Concerto Showcase on Sunday, April 14, 2024 
Season Finale: Denève and Ehnes on Sunday, May 12, 2024